Unveiling Bison Hill's latest innovation designed exclusively for grill enthusiasts – the BBQ Blade. The BBQ Blade is a versatile pocket tool with a grill scraper and fast bottle opener.
This exceptional grilling accessory combines functionality, durability, and style to elevate the grilling experience to new heights.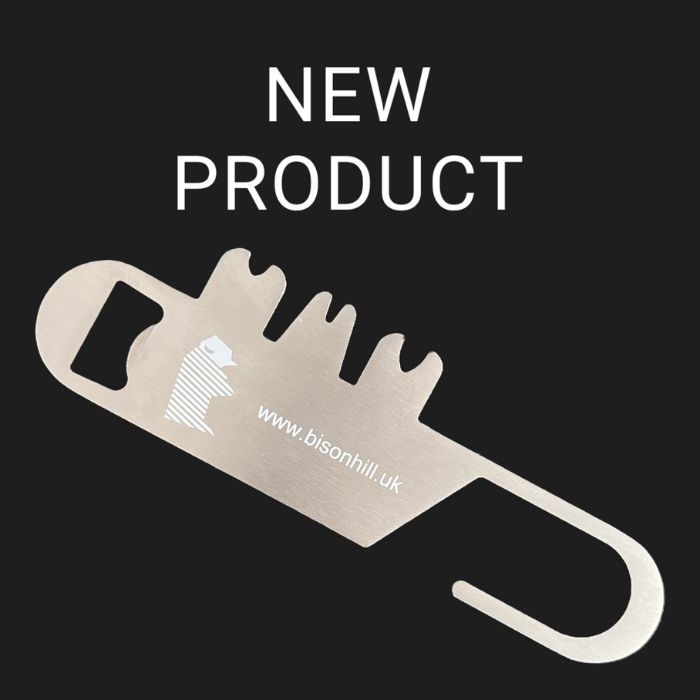 The BBQ Blade is a new tool from Bison Hill that combines a bottle opener and grill scraper in one. It is made from high-quality stainless steel and features a custom Bison Hill design, handmade to our specification and design. The BBQ Blade is easy to use and clean, and it is perfect for any type of grill.
Grill scraper
The three scraper teeth fit into the narrow space between the grates to clear away food debris and ash that can accumulate during grilling. It works with both round and diamond-shaped grates. The long flat edge allows for general cleaning and smaller teeth to get into the gaps. A quick scrape and wipe then hang on the
The BBQ Blade can replace the traditional wire bristle brushes currently available on the market, which are known to pose health risks. An alarming number of people are suffering injuries and health problems directly related to using wire bristle brushes to clean their grills. Bristles can detach, stick to food and get lodged along the digestive tract, causing pain, discomfort and digestive problems. A study published in the journal Otolaryngology-Head and Neck Surgery, between 2002 and 2014, there were over 1,600 emergency department visits in the United States due to wire-bristle brush injuries. Of these, 1,300 were children under the age of 18.
Bottle opener
The BBQ Blade features a fast bottle opener design. A deep hook then provides for easy storage on a belt hook, apron ring or on the grill.
Since its invention in the 1950s, the bar blade quickly became synonymous with bartending expertise and flair. Its slim and sleek profile allowed bartenders to effortlessly pop open bottles with precision and style, impressing patrons with their dexterity and showmanship. The bar blade's popularity grew as bartending techniques evolved, with bartenders incorporating captivating tricks and manoeuvres into their routines. Today, the bar blade remains an iconic symbol of the bartending profession, representing skill, efficiency, and a touch of entertainment. It continues to be cherished by both professional bartenders and enthusiasts alike, embodying the artistry and craftsmanship that define the world of mixology. This style is inherent in the BBQ Blade.
Experience the convenience and reliability of the BBQ Blade by visiting the Bison Hill website at www.bisonhill.uk. Elevate your grilling game with this essential accessory, now available to enhance your outdoor cooking adventures.
Design details
A 20cm long handle provides control and robustness. 1.8m thick for a solid and sturdy design. Large open hook to hang off the grill, BBQ Apron, or beer bucket.
Key Features:
Superior Cleaning Power: Stainless steel construction for effective grates cleaning.
Versatile Design: Doubles as a practical bottle opener for added convenience.
Premium Quality: Solid stainless steel ensures durability and longevity.
Comfortable Grip: Long ergonomic design for easy handling.
Easy to Use and Clean: User-friendly and easy to maintain.
Enhances Safety: Eliminates wires and bristles for a safe grilling experience.
Stylish and Practical: Modern design to complement a quality flame cooking setup.
Suitable for Various Grill Grates: Works with both round and diamond-shaped grates.
Perfect Gift for Grill Enthusiasts: Packaged in an attractive box, ideal for gifting.
Backed by Bison Hill Quality: From a trusted provider of premium grill products.